---
Colors of the 78th New York
---
1. National Flag, silk; nearly all gone; flag-staff has been twice broken by bullets; the lower break has been mended; the upper is still unrepaired. On silver plate on the staff, "78th Regiment, N.Y.V., 1863. Presented by the City of New York."

This flag was presented to the Regiment in the summer of 1863, at Fairfax Court House, Va. It was carried in several skirmishes in Virginia, and accompanied the Regiment to the west, where it was borne in the battles of Wauhatchie, Lookout Mountain, Resaca, Dallas, Lost Mountain, Pine Knob, Kenesaw, Peach Tree Creek, and the siege of Atlanta; was carried through the campaign to Savannah, and was the first to enter that city; and also carried in the late Carolina campaign. One color-bearer was severly wounded at Resaca, and one at Lost Mountain.

The organization of the 78th Regiment was commenced in the fall of 1861, by Colonel S. McKensie Elliot, of New York, under the synonym of "Cameron Highlanders." It was subsequently consolidated with companies recruited by General G.A. Scroggs, at Buffalo, and by Colonel Daniel Ullman, for the Eagle Brigade, and took the field, under the officer last named, in the spring of 1862. Its regimental organization was continued until July, 1864, when it was consolidated with the 102d. N.Y. Veteran Volunteers. In addition to the engagements and services stated in connection with the Flag here preserved, the Regiment was in action at Harper's Ferry, May, 1862, and at Cedar Mountain, Sulphur Springs, Centreville, South Mountain, Antietam, WInchester, Chancellorsville, and Gettysburg. On every field in which it has been engaged, the services of the Regiment have been highly honorable.

---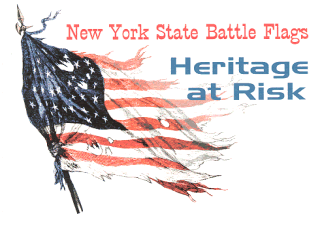 A project dear to my heart, preserving New York Civil War Flags!
Maintained by Shaun Grenan. E-mail: shaung@superpa.net