The 78th New York Volunteer Infantry

The Lochiel Cameron Highlanders
The First Regiment, Eagle Brigade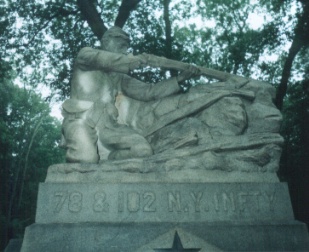 Monument at Gettysburg to the 78th and 102nd New York Infantry
This is a website about the 78th New York Volunteer Infantry, who fought to preserve the Union in the Civil War of 1861-65. On this site, I am compiling as much information as I can on the 78th NY Infantry. This was the regiment of one of my ancestors, from Ireland, who lived in Rochester, NY. Any and all help with info on the 78th is much appreciated! Please stay in touch for upcoming changes and details! Anyone with information regarding the original 78th New York please e-mail me at shaung@hotmail.com.


<--Click here for the Grenan Family Tree.
I run this website on the 78th New York Volunteers to honor the memory of the men who originally fought and died while serving under the original 78th NY and the 78th/102nd NY in the Civil War. My ancestor, Thomas R. Grenan, fought with Co. H of the Cameron Highlanders. He was wounded in the lower jaw on September 17, 1862 at the Battle of Antietam. He was discharged in 1863 for disability after surviving the resection of his lower jaw.

It is very difficult to come across information on the 78th, since no books have been written about them (yet!), but I will post the info as I come across it.